NGO Event 'Right to Identity' – 10 February
EVENT
Right to Identity
Overcoming the Struggles of Illegal Intercountry Adoption
Tuesday 10 February 2015 in Zurich, Switzerland
The Presentation
[click on the image to see the presentations]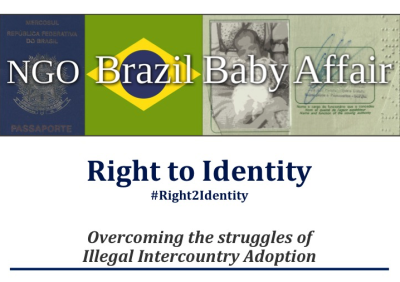 Photos of the event are posted on our Facebook page.











About the event
This free event will give insight into the importance of the Human Right to Identity, from the perspective of child trafficking through illegal intercountry adoptions. The event marks the recent foundation of the NGO and launches the online crowdfunding campaign for the documentary 'Babies from Brazil – Unraveling a Child Trafficking Network'. The film will be shot in Brazil this March. It will document the NGO's mission to assist both the original families and their illegally adopted family members in search of each other, to deliver access to the human right to identity.
About the speakers
Our first speaker will be Hervé Boéchat, Director of program at International Social Service (Geneva). Hervé will be presenting an ongoing ISS research named "Finding abuses when searching for roots".
Next, Patrick Noordoven, founder of the NGO Brazil Baby Affair, will speak about his experience being illegally adopted from Brazil. In search of his identity, he had been tracing his original family for more than 10 years until he finally found them. By doing so, he unraveled an international child trafficking network that still stands between the original families and their illegally adopted children.
Our third speaker will be documentary maker Jacqueline Arias. Jacqueline will join us live from New York, she is an inter-country adoptee herself, and will share her insights as the producer of a documentary about "original" mothers in Costa Rica in search of their adopted children. This year she supports Patrick in his Brazilian struggle to access the human right to identity.
The host of the evening is Barbara Wachter, Swiss Youth Representative to the United Nations 2015.
Audience
Everybody is welcome to attend this event, but it is especially interesting for:
Persons interested in human rights and international relations
Experts on human rights and rights of the child
Professionals working in the adoption field
Foundation representatives with an interest in human rights work
Journalists writing on human rights issues, specifically children rights and adoption
Program
18:30 Apéro
19:00 Welcome
Presentation 'Right to Identity' by Hervé Boéchat, ISS
Presentation 'Unraveling a Child Trafficking Network' by Patrick Noordoven, NGO Brazil Baby Affair
Address by Skype by Jacqueline Arias, Documentary Filmmaker
20:00 Closure & Apéro
---
The event takes place at the Impact Hub Zurich, Viaduktstrasse 93, 8005 Zurich.