Aparecida
Introduction
Mission
Facts and Figures
---
Introduction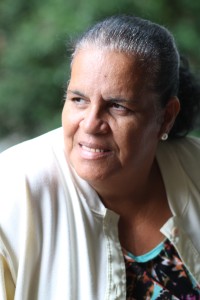 Aparecida was born on 1 October 1962 in the small town Pongaí. She grew up in the city Novo Horizonte, which is located about 450 km inland from São Paulo. She worked in the fields from a young age. She eventually gave birth to two sons, one daughter and two twin daughters.
Aparecida's first daughter and second son were taken from her against her will for illegal adoption under the pressure of, and due to, a lack family support. She did not sign any documents giving consent for anyone to take her children away from her.
Several years ago, Aparecida searched for her son and found him living in the same city as her. They have maintained regular contact ever since. However, despite searching, she was unable to find her daughter. Two years ago, her husband gave her a computer as a Christmas present, which enabled Aparecida to search further for her daughter.
Through daily searches, Aparecida found Louisa's family tracing profile. Because her daughter may have been fallen victim to illegal Intercountry Adoption, and the available information for both cases indicated there could be a possibility that they were in search of each other. Having made contact, Aparecida and Louisa conducted a DNA test to exclude this possibility.
---
Mission
In March 2015, Aparecida and Louisa received a negative result for a maternal DNA test conducted through Labaratório Gene. Though disappointing, this setback did not derail Aparecida's plans to find her daughter, and consequently the NGO commenced a mission to find Aparecida's daughter. Thanks to news outlet Conexão Reporter and journalist Katy Sherriff, Aparecida was able to travel to São Paulo and return to her home city. Additionally, with the generous support of Louisa, Aparecida was able to stay in São Paulo for several days.
During this mission, Patrick accompanied Aparecida through all steps in the process, the first being register her case with the governmental program Projeto Caminho de Volta [Project the Way Back] and the São Paulo State department of missing persons. Due to the context in which Aparecida and the NGO representatives were opening this case [e.g. advocacy for human rights], they were fortunately able to prevent the police authorities from actually opening a negligence case against Aparecida. This was a reminder for the NGO that there are risks involved in tracing illegal adoptees. To avoid this risk, Aparecida should have registered her case in the period after her daughter was taken from her. Luckily, the authorities did provide the compulsory police approval for registration enabling this case to be recorded with Projeto Caminho de Volta.
This registration process ensured that Aparecida's contact details would be permanently accessible through official authorities should her daughter try to contact her in the future.
Following this, the NGO's mission shifted focus towards the hospital in which Aparecida gave birth to her daughter. Unfortunately, in accordance with article 8 of Resolution CFM Nº 1.821/07, hospital Dom Antonio de Alvarenga was not in possession of the relevant archive anymore.
Consequently, the NGO's mission finally concentrated on all civil registries in the city of São Paulo. Based on extensive knowledge of the practice of the deprivation of the human right to identity during the Brazil Baby Affair and of the practice of illegal national adoptions, the NGO's mission put in place a 2-step back-up approach which secured guaranteed access to the civil birth registration information of Aparecida's daughter.
Despite the fact that her daughter was given a false identity following her illegal adoption, the NGO used their expertise to carry out a secure exclusion process of all "impossible" daughters. Firstly they requested a search of all possible daughters born on the same day as Aparecida's daughter using defined parameters. Secondly, an extensive search was conducted of all possible daughters whose birth was registered within a time frame of several weeks after Aparecida's daughter's birth. As a third step, the NGO filed a request at the Civil Court of São Paulo for a court order to conduct a search in all civil registries in São Paulo with the same defined parameters but within a larger time frame.
The outcome of this all-inclusive and, in theory, fail-safe approach was put in place based on Aparecida's knowledge about the birth of her daughter. However, in this case it means that the NGO's mission does not provide for contacting Aparecida's daughter since she herself is not a victim of the Brazil Baby Affair, but of an illegal national adoption instead. As a consequence Aparecida's daughter and/or her adoptive family might not be (fully) informed about her original identity, at which point the situation can become extremely sensitive.
However, in their help for Aparecida, the NGO went as far as enabling her to establish contact with her daughter. The NGO strongly recommended that, if Aparecida eventually succeeded in making contact with her possible daughter, they should conduct a DNA test to confirm their relationship.
In August 2015, Aparecida received a positive result from this DNA test. Unfortunately, her daughter's extended adoptive family had never been informed about the illegal adoption and therefore, Aparecida's daughter's wish is to remain anonymous for the moment.
---
Facts and Figures
Aparecida's daughter was born on the 18th of June 1981 by a normal delivery, around 7am in Clínica Infantil do Ipiranga, now named Hospital Dom Antônio de Alvarenga.
Gynecologist
Dorival Arnaldo Della Togna
Intermediaries
Josephina Elisa Ana Maria Muoio
---